Follow-Up Email Examples For After the Interview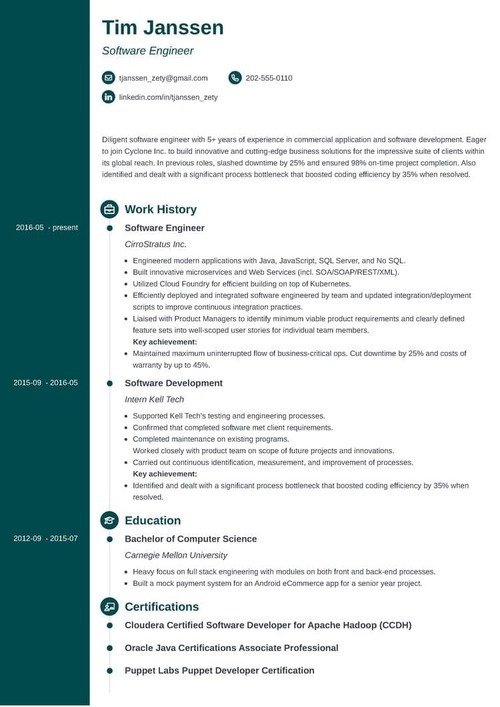 Benefits of writing a follow-up email after an interview
It is important to show proper professional etiquette throughout the interview process, and follow-up emails are an essential aspect of this. Here are some of the major advantages of writing a follow-up email to your interviewer:
Expresses gratitude: Interviewers always appreciate when candidates express gratitude for their time and consideration. Make sure that you thank your interviewer for the opportunity.
Helps you provide more information: If you were nervous during your interview and, as a result, felt like you inadequately addressed a specific question, a follow-up email can be the perfect opportunity to clarify or elaborate on a topic that you discussed in your interview.
Gives you an opportunity to further impress employers: It can be very beneficial to get another chance to impress employers after your interview. A great time to do this is in a follow-up email because it gives you another opportunity to explain why you would be an ideal candidate for the position.
How to write a follow-up email after an interview
1. Pick a great subject line
The subject line is the topic or main agenda of the email, and it is usually the first thing that someone sees. Your first task is to select a great subject line that can capture your interviewer's attention. Make sure that it is short and conveys the main idea of the email. Here are a few examples:
2. Appropriately address the individual
In most cases, you should begin any professional correspondence by saying, 'Dear Mr or Ms' accompanied by the person's last name. The only time that you should address them differently is if the interviewer instructed you to call them something else or by their first name during the interview.
3. Begin with a 'thank you'
After addressing the interviewer, the first thing that follows is the body. Your email's body should begin by expressing your gratitude. Using the words 'thank you' is essential, but you should include them in complete sentences to specifically express what you are grateful for. You should mention the job title and thank the interviewer for giving you this opportunity.
4. Explain that you are following up after the interview
This is the part where you go into detail about what the email is all about. State that you are following up after your recent interview, and provide specific details about your meeting and the conversation that you had. It's common for interviewers to hold several interviews in one day, so it's wise to use as many unique details as possible and specify the job that you interviewed for. This allows the interviewer to better recall your interaction and properly attribute the message.
5. Reinforce your interest in the job opportunity
It's a good idea to clearly state your continued interest in the job so that interviewers know that you still want to work there after learning more information about the role and company. This also shows the interviewer your determination and excitement to get the position, which are attributes that employers look for in a new hire.
6. Set yourself apart
You are likely not the only one who interviewed for the job, so it is important to set yourself apart and convince the employer that you are the best candidate for the role. One way of doing this is by showing them the exceptional skills you possess. Take this opportunity to explain how you would use these skills to improve the company and further its goals.
7. Ask them to contact you and sign off
After completing the body, it is now time to finish up the email. Make sure that you keep communication open by telling them to contact you with any additional questions. This may prompt them to email you in case they need clarification about something or want to convey a message. You should then sign off with your first and last name.
Follow-Up Email Right after the Interview
When to follow up after an interview?
What's the best interview follow-up email subject line?
How to follow up after an interview?
Sample Follow-Up Email After an Interview
Thank you so much for taking the time to talk to me about the position of [the position you're applying for] with [Company Name] this morning. It was a pleasure to learn more about your [innovative strategy / upcoming challenges / core values / industry insights].
The details you provided me with about the position convinced me that this is a job I would enjoy and one where I could make a valuable contribution with my skills and experience [refer to your specific area of expertise and how it can benefit your employer].
I was also thinking about what you said regarding [specific issue discussed during the interview]. In my last role as [your current or most recent position] I found that [data-backed explanation of how you would tackle the issue in question].
Finally, attached you will find the details of some of my projects we talked about. Please feel free to contact me if you find you need any more information. I look forward to our call next week as discussed.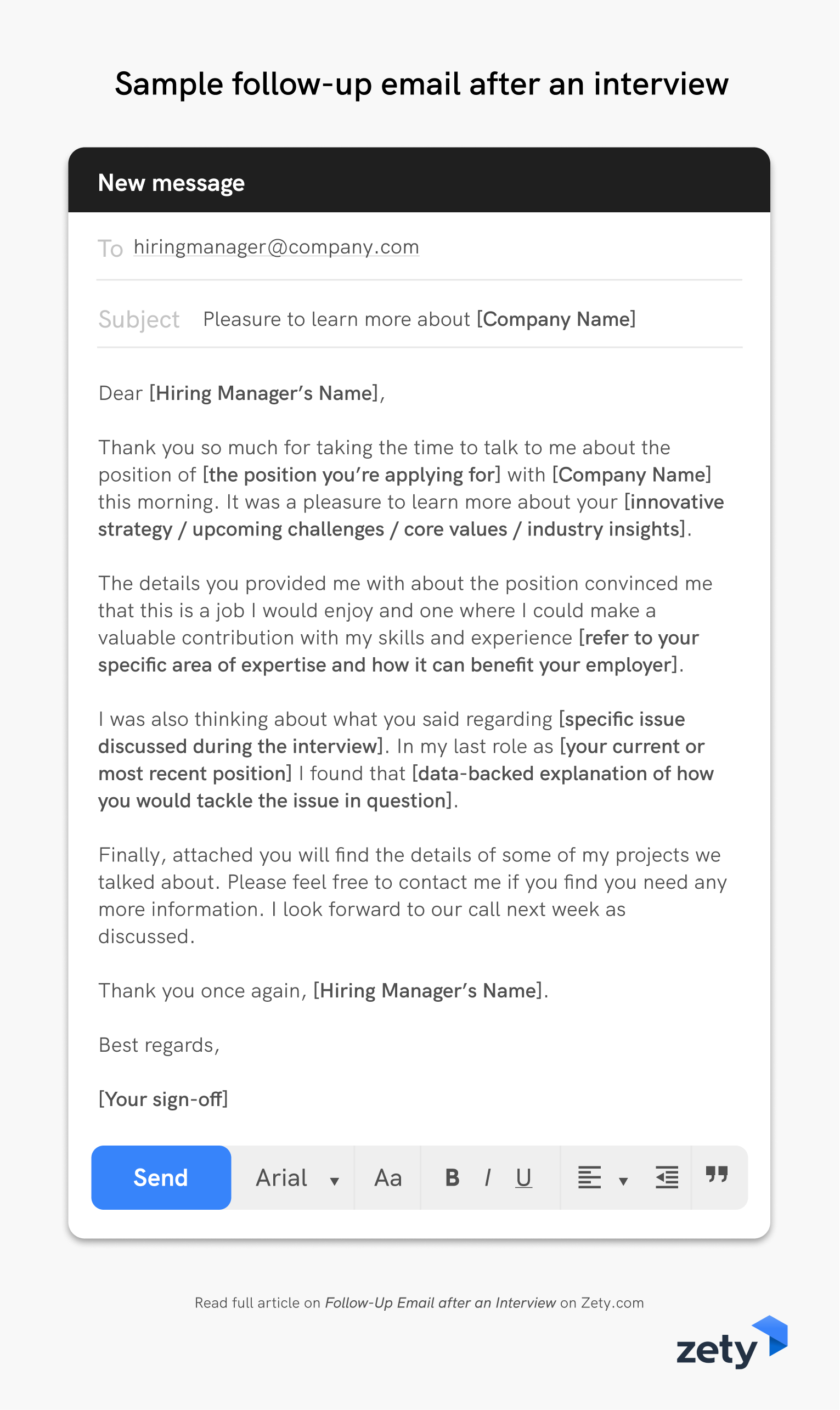 Out of all the stages of following up after an interview, this one's the most crucial. That's why we've put together a handy guide that explains how to make the most of it in full detail: Thank You Email After an Interview: How to Write One That Gets You the Job
Phone Interview Follow-Up Email: Is It Any Different?
If you're interested—clearly reiterate that. Sourcers often interview multiple people on the same day. Their job is to engage candidates and weed out those that aren't genuinely keen on the offer. Show them your engagement.
How to write a follow up email after phone interview?
Sample Follow-Up Email After Phone Interview
Thank you for talking with me today. I really appreciated learning more about [Company Name]. It was great to learn that you share my approach to [industry / business]. I particularly liked the way you [specific detail about the company you learned during the interview].
Pro Tip: Not interested in the job after the interview? Send a thank you follow-up email anyways. Thank them for their time and consideration, explain why the position isn't a good match for your skills and experience and let them know you'd like to stay in touch if they have suitable openings. Never burn bridges on the job market.
Source:
https://sg.indeed.com/career-advice/interviewing/follow-up-email-after-interview
https://www.indeed.com/career-advice/interviewing/follow-up-email-examples-after-interview
https://zety.com/blog/follow-up-email-after-interview