Top 15 Email Writing Tips For All Businesses

Business Email Etiquette Guidelines
Get the Salutation and Closing Right
Don't Leave People Hanging
Confirm receipt for messages you can't get to right away. Let the sender know that you got it and will respond at a later date. Tell them when to expect it. Set a date and time and stick to it.
When you go on vacation or out of the office for more than a day or two, set up an out-of-office reply or away message so people will get a quick acknowledgment. Include the date you'll be back in the office and when you expect to respond. Give people an alternate contact for urgent matters in case they need to reach someone in your company right away.
Limit Acronyms and Jargon
Before using business abbreviations and acronyms or jargon in your emails, consider the knowledge of the recipient. If you're dealing with clients in different industries, for example, you might want to include more information than you would with your co-workers. Overuse of acronyms cuts people out of the conversation.
Only Use 'Reply All' When Necessary
When you get emails that include several people, you might be tempted to just reply to everyone. But this can lead to a lot of wasted time for recipients if the message isn't relevant to them. It can even be embarrassing if your reply conveys sensitive company information and it goes to a client who happens to be copied. So use care and only hit "reply all" when it's absolutely necessary.
Use the Undo Send Feature
Some email clients like Gmail have a feature that will allow you to undo sending an email for up to 30 seconds. If you forgot to check for typos or an attachment, act quickly and you can cancel sending the email before it arrives at the other end, and make corrections.
Wait 24 Hours Before Sending Emotional Messages
If you ever find yourself in a situation where you are tempted to send an angry or emotional email, craft your message. Avoid hitting send until you step away for a day to clear your head. Work related emails should be devoid of negative emotion. It's painful for others to receive emotional words.
Avoid Using All Caps
Don't go crazy with the CAPS LOCK as 67% of people can't tolerate it according to the survey. Always use sentence case. Capital letters can add emphasis. But they can also come across as screaming. Consider using italics or a color to highlight.
Keep it Short
About 29% of people say they can't tolerate long emails. Do you really want to lose almost a third of readers just because of message size? Respect the time of your team and business associates. Use short paragraphs and formatting such as bullet points that make emails easy to skim.
Instead of a long email, try an alternative: a video call, face-to-face meeting, or phone call. If it has to be in writing, create a separate report in an attachment or shared cloud document.
A Clear Subject Line is a Must
Subject lines should accurately reflect the content. A clear subject line is a courtesy informing the recipient what to expect before opening your message. More than that, it may make the difference between people opening your email, or ignoring it.
Don't Share Confidential Information
Use Humor with Caution
You might be tempted to add in a little fun or humor to your emails. But without body language, humor and tone can be difficult to decipher in emails. Never use jokes unless you have a good relationship with the recipient.
Limit Emoji and Emoticons
Don't Be Hasty with Reminders
Give a recipient a day or two to respond, depending on the type of inquiry. A recipient may feel chastised by getting a reminder when he or she has been out of the office or in meetings all day.
Also, before sending reminders, please check your junk or spam folder. Put yourself in the recipient's shoes. Has anyone ever complained they did not receive one of your messages, forcing you to go out of your way to re-send it, only to then reply "Oh, it was in my spam folder." You probably felt slightly annoyed, thinking, "Why didn't you look there in the first place?"
Be Careful with BCC
BCC stands for blind carbon copy and it means that others do not see the blind-copied person on the recipient list. BCC is good etiquette if you want to inform other people in your organization and protect their name, title or email address from going to, say, a sales rep for an outside vendor. But BCC can be bad etiquette if your purpose is to be devious and go behind a coworker's back. How will you feel if your coworker learns that his boss was blind copied? If it could upset him, then don't use it.
Add a Personal Message When Forwarding
When you find it necessary to forward an email to a coworker, add an introduction at the top instead of just hitting send. Don't force associates to read through an unfamiliar email thread without context. Also consider changing the subject line title so it makes more sense.
Top 15 Email Writing Tips For All Businesses
Since we rely heavily on emails for business communication, emails should be well-written to serve the purpose of your company. Effective email writing helps to share the message lucidly and concisely.
First, you need to understand the set of target audiences and the objective of the email campaigns for preparing clear, concise and actionable email content. You need to craft a compelling subject line in six to eight words.
The pitch of the formal email should be professional and courteous. Kick-start the email on a positive note to create a good impression. Ensure to make the message of the email grammatically correct. Hire someone to proofread your piece of content.
Over 34% of users regularly open their emails, and email marketing is the personal way to reach out to the subscribers. You can be tailored to customer actions so that every communication is relevant to their interests.
In the last couple of years, if you are writing only casual emails, then brush up your skills for creating a proper email. It would help to improve the conversion rates and increase the click-through and open rates. Many professionals struggle to scribble formal emails. An experienced essay writer service or content writer can assist you in this.
Formal emails consist of a basic structure with an attractive short and concise subject line, exciting opening and compelling closing copy. You have to format the email by using a professional email address, font, context, and proper salutation. Avoid mistakes like long and unclear content with grammatical errors. Ensure the email doesn't contain insensitive information.
Anatomy of a good email writing tips
Email marketers need to implement effective email writing tips for businesses as it is a vital aspect of communication. Marketers are obsessed with the attractive subject line more than any other part of the email copy.
1. Craft attractive, and clear subject line:
Email subject line creates the first impression on subscribers. If you want users to open your email newsletter, then craft beautiful subject lines to improve the open rates.
You can use the one-word subject line to involve an ultra minimalistic approach in the campaign. Using numbers and lists are more comfortable for recipients to process the brain for a quick and easy read.
You should send emails through the company's email address for internal and external communication. Your email address should get linked up with your real name, not with your nickname. Don't miss to use hyphens, underscores or periods to secure the email address. Avoid using extra numbers or letters in the email address.
First, make a goal to fulfil an expected outcome from the email campaigns. If you don't know why you are writing the email, then it is difficult to achieve the defined result. Setting up clear email marketing goals give a proper direction to the campaign and make it easier for the general audiences. Keep the goal simple to avoid any confusion.
Hitting the right tone for your email campaigns ensure to reach out to the subscribers in a meaningful way. Write three emails in three different tones to experiment for understanding the right one. You can stay consistent in the tone to build the credibility of your brands. If you want to stand out in the crowded inbox of your subscribers, then you have to create a highly recognisable tone to attract the right set of audiences through emotions.
The first few lines of your email copy should be interesting to compel them to read the full text. If the subscriber opens your email and finds the first few lines boring, they would stop reading and close the email. Customers would understand from the first few lines that you have something to sell. So, solid opening lines encourage them to take a few more minutes of their day to read the whole copy.
If you are ignoring email greeting, rethink on your email marketing plans. Try to write professional email greetings to impress your subscribers. Use the proper degree of formality in the greeting to make the business more approachable.
After creating the strong subject lines, you have to craft the strong email salutation. If you mention the main points concisely, readers can scan without struggling much. You can make a list of the features so that readers can have a glance; don't miss to explain those features in detail to give more information to the recipients.
Ensure to add benefits in your email copy, many subscribers may not be aware why your brand is essential for them. Readers are more interested in scanning mail where they can see the benefits. Many recipients would find your email relevant due to the benefit of your brand.
We are living in a customer-centric market and subscribers like personalised content, and it improves the click-through rates and conversion rates. Relevant content is the main cornerstone of personalised content by using the subscriber's first name in the email.
Subheads help the readers to absorb the message quickly and grasp the main points effortlessly. Subtitles are essential like headlines and offer a scannable reading for the subscribers. Readers are in a hurry so that they can understand the email with the help of subheads.
It's important to include professional images or Gifs along with engaging content to capture the readers' attention. You can take pictures or Gifs from Shutterstock, Canva, Envato, iStock and many more. Keep in mind that simple animated works better than complicated ones.
Right font helps you to communicate the message more effectively. Font size should not exceed more than two and avoid using too many fonts. If you are using a custom font, try to preview your email newsletters on multiple devices.
Launch Your Small Business Email Marketing Strategy in 4 Easy Steps
1. Build your email list
The best way to build your list is by creating a signup form and featuring it on your website, blog, and social media. For the best results, we recommend setting up a double opt-in sign-up form.
Double opt-in sign-up forms send new subscribers a confirmation email after they've submitted their email address. While this adds an extra step to the sign-up process, it is definitely worthwhile. Double opt-in helps:
Try placing or linking to your sign-up forms in high-traffic places, like your homepage, blog, social media bios, and even your email signature. To learn more, check out this article on how to create an email sign-up form.
2. Decide the types of email you want to send
3. Create your email design and content
Email design
The number one thing to keep in mind with small business email marketing is that you don't need to be over the top with your designs. Email is supposed to save you time, so don't break your back creating overly elaborate and complex emails. Instead, stay true to your brand image. You'll come across as more familiar and relatable to your subscribers.
Another important part of email design is the call to action (CTA). Make sure you add a CTA button that corresponds with the content of the email and tells readers what you want them to do. Here are some common CTA examples:
You should also avoid having more than one main CTA. Competing calls to action send a mixed message to readers and can harm your click through rate. If you have more than one goal in mind for an email campaign, create a hierarchy to let contacts know which is the most important. Using the inverted pyramid structure is a great way to do so.
Writing the email content for your campaigns
The most important thing to keep in mind at this stage is the customer. When designing your emails, try asking yourself what your subscribers want to see and how to provide them with value in your campaigns. ✨
When sending mass emails to all of your contacts, it's nearly impossible to craft a message that is relevant to everyone. Instead, try grouping contacts with similar needs or interests to send more targeted and higher quality content.
Another important aspect of email content creation that's easy to overlook is the subject line. These few words are the first thing your audience sees from your campaign. For this reason, make sure your email subject line is eye-catching but not overly promotional.
4. Send your campaign and analyze the performance
To make the most of your marketing efforts, you should always be analyzing the performance of your campaigns. 🕵️‍♀️ Email is unique in this regard. Compared to other digital marketing channels, email provides a wealth of data and statistics to help improve your future campaigns.
Some absolutely essential metrics to keep track of include open rate, click through rate, and conversion rate. For more details on tracking your campaigns' performance, check out this article on email marketing benchmarks and KPIs.
10 small business email marketing tips for 2022
When creating email campaigns, routine is the enemy. You should always be on the lookout for new email marketing tips to help you continue creating valuable, engaging email content.
Inboxes in 2022 are a battlefield for marketers. Your contacts are receiving more and more email solicitations from other companies and competitors, so you'll have to give your subscribers a good reason to open your email. 📥
1. Quality over quantity
One of the keys to email deliverability and engagement in 2022 is the quality of your email content. Forget about the number of emails you send. Nobody likes to be bombarded with near-constant promotional messages. 😫
Instead, focus on writing emails that your subscribers actually want to read. Make sure your campaigns include value-adding content for your subscribers. A great way to ensure you're on-point with your subscribers' expectations is by asking them what kind of content they'd like to receive when they sign up to your email list.
2. Use an embedded sign-up form rather than a link in your menu
Speaking of sign-up forms, it's almost always better to use an embedded form than linking to a link. Embedding your sign-up form makes it even easier for new subscribers to join your email list.
Pop-up sign-up forms are another common way to make sure your users have the chance to subscribe. If you decide to use this feature, just be mindful not to interrupt the user experience. If you don't give website visitors a chance to naturally engage with your content, a pop-up form is likely to deter them from subscribing. 🙅‍♀️
3. Encourage sign-ups anywhere you can
One of the best email marketing tips we can give you is this: Pepper your website with email sign-up forms wherever appropriate. Include a sign-up CTA on your homepage, contact page, important landing pages, and in your footer.
If you have an ecommerce store, be sure to provide an option on the checkout page to opt-in to emails while customers are already submitting their email addresses to complete orders.
For brick and mortar stores, having a sign-up clipboard works just as well! At checkout, just ask your customers if they'd like to stay up to date with your business's news and deals.
4. Make your emails mobile-friendly (responsive email design)
About 50% of Americans read emails on their phones, so making your emails mobile-responsive is a top-priority. In 2022 there's really no way around it. Your email design needs to respond to users' screen, be it desktop, tablet, or mobile. 📱
Thankfully, tools like Sendinblue make creating responsive emails super easy. Most drag & drop email design tools automatically generate responsive emails. What's more, using a newsletter template is a great way for beginners to easily create responsive emails.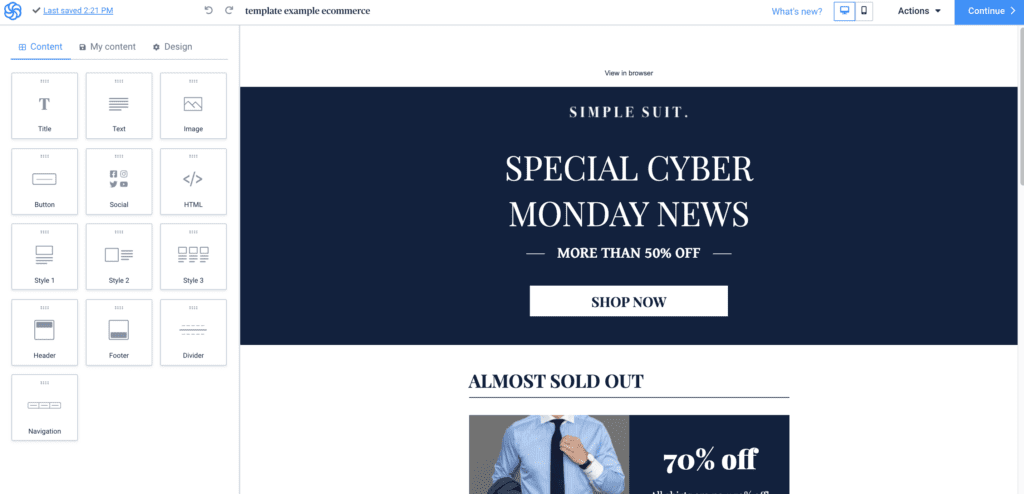 5. Create a list segment for your most engaged customers
If you have a repeat customer base that reliably engages with your emails, this is a fantastic opportunity to build brand loyalty and increase sales. These subscribers have shown a deeper level of interest in your business. Cultivating these relationships is a sure fire way to drive conversions in a cost-effective way! 🤑
A great way to do this 'cultivating' is creating an email list specifically for these contacts. That way you can send them special offers and discounts to encourage them to make purchases through your business.
6. Send automated emails
If your small business still isn't already sending automated emails, 2022 is the time to make it happen. Automated emails do wonders for bolstering customer relationships and save you loads of time and energy. 🤗
If you send a regular newsletter, set up an automated welcome email for new subscribers. This will start your relationship off on the right foot and build trust between your brand and your new contacts.
You can also set up automated emails based on a contact's past behavior. For example, you can contact your users about their favorite products or complementary products to items they recently purchased. Even better, you can send automated re-engagement emails to customers who haven't made a purchase in a while.
7. Make your emails accessible to readers with cognitive or visual impairments
Having accessible content is already a hot topic for email marketers in 2022. Email accessibility refers to having content that can be accessed by visually-impaired email subscribers using voice assistants and screen readers.
8. Stick to your sign-up promise!
Now that permission-based email marketing has become the norm, inboxes have become somewhat of sacred space. For many, the inbox represents a curated collection of personal content. 🖼️
Sources:
https://smallbiztrends.com/2021/04/email-etiquette.html
https://easysendy.com/blog/top-15-email-writing-tips-for-all-business/
https://www.sendinblue.com/blog/small-business-email-marketing-tips/